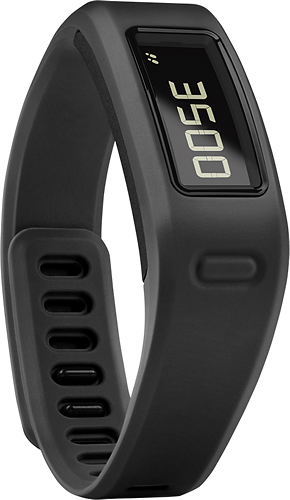 Garmin – vívofit Fitness Band – Black
Garmin vívofit Fitness Band: Start each day with a personalized and attainable goal. Designed to be worn 24/7, this water-resistant fitness band has a battery life of over one year and reminds you to move throughout the day. It is also compatible with select heart rate monitors (sold separately), so you can accurately track calories burned during everyday activities and your more intense workouts.
Fits most wrist sizes
Includes a small band that fits wrists from 4.7″ to 6.9″ and a large band that fits wrists from 6″ to 8.3″.
Get a complete picture of your daily and nightly activities
Sync with your compatible Bluetooth device to track steps taken, calories burned, active and idle time, and distance traveled.
Achieve daily personalized goals based on your habits
vívofit learns your activity level and assigns a new personalized, attainable goal each morning.
Get a visual reminder to keep active throughout your day
A red bar appears across the screen after you've been idle for an hour and builds when you've been sitting too long. Reset it by taking a walk for a few minutes.
Discover how your daily activities affect your sleep
Monitor how long and how well you sleep, and see how it relates to your daily activities.
Accurately track your pulse and zone data during a workout
Compatible with select heart rate monitors to help you calculate calories burned. Also compatible with Garmin Forerunner and Edge devices. (All sold separately.)
Long battery life means you never miss tracking a moment
CR1632 coin batteries don't need to be replaced for over a year.
Free Garmin Connect app provides a network of support
Monitor your progress on your computer or compatible mobile device with a customizable dashboard equipped with tools, charts and graphs so you can visualize your progress.
Celebrate your progress
Join online challenges and earn digital badges for your achievements.
Challenge your friends for extra motivation
Compete against and cheer on your friends and family. Compare stats and see how your progress measures up.
Wirelessly sync with select Bluetooth devices
Touch a button on the wristband to send stored stats to the Garmin Connect app.
Comfortable water-resistant band for use anytime, anywhere
Fitted wristband in fun colors. Water-resistant so you don't have to worry if you wear it in the shower or are caught in the rain.
Check your stats on your wrist
See your progress without having to sync on the easy-to-read display. Customizable screens allow for personalized use.
Apple, the Apple logo and iTunes are trademarks of Apple Computer, Inc., registered in the U.S. and other countries. iPod is a trademark of Apple Computer, Inc.
Garmin vívofit Video Reviews
Garmin vívofit REVIEW
ON SALE NOW – SEE ON AMAZON ↓↓↓↓
http://amzn.to/2dc9WFP
▬ DISCLAIMER ▬
RizKnows purchased this product. We received no monetary compensation from Garmin to provide this review.
Read our full Ethics Statement here: http://rizknows.com/ethics
▬ RIZKNOWS DEALS APP ▬
iOS – …
Garmin vívofit 2 Fitness Tracker Review
CHECK PRICE on AMAZON↓↓↓↓
– USA: http://amzn.to/2p5RHZ0
– International: http://geni.us/rjBqBk
My full review of the Garmin vívofit 2 Activity & Sleep Tracker. It pairs with most ANT+ heart rate monitors to show your current heart rate and heart rate zone as well as provide more accurat…
Garmin vívofit 2 vs. vívofit // Fitness Tracker REVIEW
**ON SALE NOW – BUY ON AMAZON
– vivofit: http://amzn.to/2cVmBe8
– vivofit 2: http://amzn.to/2dctklQ
Review of the differences between Garmin vívofit 2 and vívofit. In 2014, Garmin launched the vívofit at CES 2014 and it was a hit! People love this product and for good reason. It is possibly t…
Garmin vívofit 3 REVIEW!
*** ON SALE – SEE ON AMAZON ↓↓↓↓
➡ vivofit 3: http://amzn.to/1NXOvQw
➡ vivofit 2: http://amzn.to/26ygy4o
➡ Amazon UK: http://amzn.to/2jRvcjq
Garmin vivofit 3 review. This is an activity and sleep tracker that is water resistant down to 50 meters, syncs via Bluetooth and US…
Walmart Reviews
This product has an average rating of 3.8 based on 57 reviews by Walmart customers. Read some of the latest feedback below or go to Walmart.com to find all reviews.
Garmin vivpfit fitness band
Review for Garmin vívofit by Bonjon on 2017-01-11T06:43:54
Rating: 5
I was very pleased with the vivofit band. I purchased it to help keep me on track with some healthier demands such as getting more steps in a day. Also to monitor my sleep pattern. It was easy for me to set up and I am not the greatest tech person. Would buy this brand again. I like that it has a battery like a watch so it doesn't go dead if not charged each evening. I put it on my wrist the day I received it and have not taken it off yet. Even has the date and time of day on it which I did not realize it when I ordered it. Would recommend this item for someone looking to keep track of there steps and sleep.
Very inaccurate
Review for Garmin vívofit by Odey on 2017-01-30T13:25:46
Rating: 1
This product is very inaccurate . I walked a mile it said I walked 10 steps. It says you can not return it by mail. But you also can't return it to a Wal-Mart store either. And I can not find the seller information on the Wal-Mart website. Don't buy!!!!!!!!
Just like a fit bit, but better.
Review for Garmin vívofit by Greatexperience on 2015-07-02T11:50:46
Rating: 5
I was looking into getting a fitbit. They are all the rage, right? I discovered though that a fitbit would not sync up with my Samsung Galaxy 5. I went looking and did some research, read reviews, and finally decided on a Garmin. Not only was it cheaper than a fitbit and capable of pairing up with my phone, it had the same options plus a display that the cheapest fitbit had. Sometimes the step count is delayed, but it catches up. Some reviews said it didn't count accurately or at all. Did you know that the fitbit has that same issue? How do I know? My husband has a fitbit, and we've been comparing. The Garmin is bulkier, more like a watch, but not uncomfortable. So with my vivofit I have a step counter, a goal count to strive for, how many miles my steps add up to, the calories I've burned, the time, the date, and a red bar that appears when I've been inactive for a bit. Sometimes I feel very judged by that red bar, but it's a little reminder. It also tracks my sleeping. I can see on my phone how well I have rested the night before. I would recommend this to anyone. Love mine.
Great motivator!
Review for Garmin vívofit by Tiredmomof3 on 2015-09-03T06:02:19
Rating: 4
First off I have to say that so far this has been working great for me! I have only had it for a little over a week but seems to be doing what it claims to do. It does count steps but sometimes not very accurately. When I first got it it counted over 1000 steps while I was in the shower. But I think as you wear it it starts to get more accurate in sensing your movements because it hasn't done that since. I have worn it swimming in a lake and a pool and have had no trouble with it. Seeing the little red bar really gets me up and moving and using Garmin connect is pretty easy. It did take quite a few tries to get it to sync the first time but since then it has been very easy. Unfortunately it cannot work with my phone but works great with my computer. Overall a great product and has a lot more features for the price versus similar products from other companies.
I like it!
Review for Garmin vívofit by mar77 on 2015-07-09T17:24:41
Rating: 5
I've been trying cheap pedometers and was getting what I paid for. I finally decided to return the cheaper ones that didn't seem accurate and paid a little more money for the Garmin Vivofit. So far, I am pretty happy with the unit. I've had it for a couple of weeks now. I don't know that it is completely accurate, but certainly more than the cheap pedometers were. I chose the Garmin over the fitbit models, after looking thru many reviews. They seemed similar, but one of the features that I liked over the fitbit is that there is a clock feature on this one. I just wear it in place of my watch and don't have two items on my wrists. I also like that I can see my steps on the screen rather than having to look at my smart phone or computer. One feature that I don't care for is that it doesn't track steps when I ride either my regular bike or stationary bike. From reading other reviews, I found that I can attach the unit to my shoe and then it will track the steps. I would prefer not to have to take it off my wrist and move it to my shoe every time I want to ride a bike, though. Overall, I am very happy with the Garmin Vivofit.
BestBuy Reviews
This product has an average rating of 4.4 on BestBuy based on 1597 reviews. Go to bestbuy.com now to view all reviews.