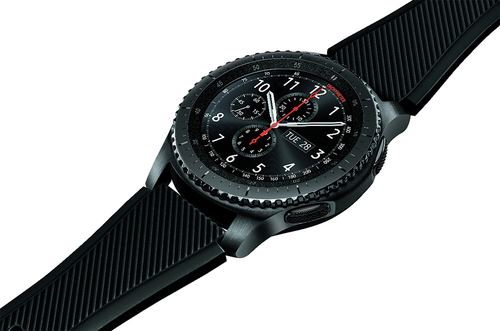 Samsung – Gear S3 frontier Smartwatch 46mm Stainless Steel AT&T – Black
The Gear S3 has the aesthetics of a truly premium watch with advanced features built right into the watch design. That's why it's so easy and effortless to use the Gear S3. It's also built for you to go days without needing your phone or to recharge. You get to feel free with the Gear S3. Gear S3 frontier is built for a pioneering spirit, to take adventures as they come.
Compatible with select Android phones
So you can stay connected while your phone stays out of sight.
Simple navigation and clear visuals
1.3″ Super AMOLED touch-screen display with 360 x 360 pixels resolution.
Stainless steel case
Along with a silicone watch band ensures durability and an elegant look.
IP68-rated dustproof and waterproof design
Defends your smartwatch against submersion in up to 10′ of water.
Make calls, receive messages and access apps
Wi-Fi, NFC and Bluetooth connectivity allow you to access your phone's functions directly from the watch.
Built-in pedometer
Keeps track of walking and running distances to help you stay in shape.
Weather app
Shows you the day's and week's forecast at a glance.
Vibrate mode
Quietly alerts you to a range of notifications, such as incoming e-mails, calls and text messages, as well as upcoming calendar events.
Built-in 380 mAh battery
Offers up to 4 days of use on a full charge for extended operation. Charge easily using the included wireless charging dock.
Samsung Gear S3 Video Reviews
Samsung Gear S3 – REVIEW
Samsung Gear S3 Review: The Watch That Does Everything
Samsung Gear S3 Review
Samsung Gear S3 "Real Review"
Samsung Gear S3 Review – The Best Samsung Watch Yet
BestBuy Reviews
This product has an average rating of 4.7 on BestBuy based on 83 reviews. Go to bestbuy.com now to view all reviews.