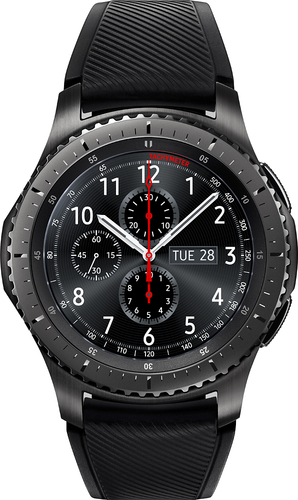 Samsung – Gear S3 Frontier Smartwatch 46mm – Dark Grey
The Gear S3 has the esthetics of a truly premium watch with advanced features built right into the watch design. That's why it's so easy and effortless to use the Gear S3. It's also built for you to go days without needing your phone or to recharge. You get to feel free with the Gear S3.
Compatible with select Android devices
Synchronize with your smartphone to receive text and e-mail alerts, answer phone calls and view your calendar.
SMS, calendar, e-mail and social notifications
Keep you updated on day-to-day happenings.
Hands-free calling
Makes it easy to make and receive phone calls.
Simple navigation and clear visuals
1.3″ Super AMOLED touch-screen display with 360 x 360 resolution.
Just twist the bezel to access apps you need
Answer a call, turn up the volume or turn off the alarm. Turn the bezel to scroll through apps, messages and long text.
Water-resistant design
Gives you the freedom to explore and allows you to stay on track at any weather conditions.
Wireless connection to your device
Bluetooth 4.2 connectivity and NFC technology enables simple one-touch pairing.
Samsung Gear S3 Frontier Video Reviews
Samsung Gear S3 Frontier KNOW before you BUY REVIEW!
Samsung Gear S3 frontier smartwatch review
Samsung Gear S3 Review: The Watch That Does Everything
Samsung Gear S3 Frontier Unboxing and First Impressions
Samsung Gear S3 Frontier Review: The smartwatch final frontier!
Walmart Reviews
This product has an average rating of 4.7 based on 533 reviews by Walmart customers. Read some of the latest feedback below or go to Walmart.com to find all reviews.
Definite Upgrade
Review for Samsung Gear S3 Frontier by bigwallys on 2017-03-15T12:43:13
Rating: 5 (Value: 5, Features: 5, )
I've owned the Gear S2 for years and loved it. So I wasn't sure if I needed to upgrade to the S3. But boy am I glad I did! It seems to be almost the same watch mechanically. With most of the same functions, which is great. But the Larger size and weight gives it a much more luxurious look and feel. I actually love everything about it including charging it. I can spend hours trying out new features and searching for new watch faces. Which makes it always feel brand new to me. I proudly wear it daily and constantly field questions about it. My favorite features are the email and text notifications. Also the find my phone feature (which I use a lot!), and the ability to control the music player. There are many other features that I love but the brightness and clarity of the screen blows me away every time I look at it. I'm very happy with this watch and have already purchase a second one in the Classic design. To me this is the best smart watch on the market. Thanks Samsung! [This review was collected as part of a promotion.]
Best Smartwatch Ever
Review for Samsung Gear S3 Frontier by SamsungFanMichael on 2017-04-21T16:05:47
Rating: 5 (Value: 5, Features: 5, )
This Is By Far the best way to go if your looking for something thats Easy to Use, Its very self Explanatory for something whos not Used to Electronics. This is a well Made Device with all you need its a phone, Fitness watch, personal assistant and everything else you can ask for in a Watch.
The Creme de la Creme of Smartwatches
Review for Samsung Gear S3 Frontier by Chairman2018 on 2017-04-09T07:50:25
Rating: 5 (Value: 5, Features: 5, )
Take note Tim COOK .This is what a smartwatch looks like in masculinity not a feminine Apple Watch. When Samsung hooked up with Swiss watchmakers, they had a hot number as I have this and the S3 Classic BT. Rolex,Omega,Tag and Jacob watches are classic but smartwatches are the future and pretty soon,they will project holographic UX and ONLY Samsung can bring that.
Thank you TMo and Samsung
Great hardware, intuitive UI, very long battery life
Review for Samsung Gear S3 Frontier by plee on 2017-03-13T07:47:55
Rating: 5 (Value: 5, Features: 5, )
I've had a lot of experience, with smartwatches, owning 8+ smartwatches, from the original pebble, multiple fitbits, samsung galaxy gear, moto360, etc, and the Samsung Frontier S3 is one of the best I've owned.
Pros:
– Incredibly responsive UI: one of my favorite things is to spin the bezel to switch screens. It is so quick, the screens transition as fast as you can turn the dial, it's fun just to spin the dial around quickly. The dial is also great for accessing information when you have gloves on
– Battery life: from what I've seen, typical smartwatches with color displays last one, two days at best. The S3 Frontier has lasted me 4 days without a recharge, on medium brightness. The option to enable additional power saving can really extend battery life
– Solid build: I've had multiple Fitbits break during strenuous activity, but I've had barely a scratch on the S3 Frontier. I have not had issues weightlifting, biking and running with it on – it's rugged enough for the outdoors.
Cons:
– Lack of applications: there are a good amount of applications, though the quality of some may be lacking. Fortunately Samsung has provided an extensive SDK for application development, of which I plan to create my own apps
– Altimeter: it seems readings to vary a bit, if you want to make use of it, you should calibrate it frequently [This review was collected as part of a promotion.]
Samsung mixes sleek design with integrated functionality
Review for Samsung Gear S3 Frontier by TechDad02 on 2017-03-24T11:07:21
Rating: 5 (Value: 5, Features: 5, )
It is awesome to see how far Samsung has come in the wearables game. Back when I had the S5, I got the Gear Fit which was great, but after a few months went the way of most wearables…I began to forget to charge it and then left it at home and would occasionally pick it back up and wear it again for a week or two.
While the device was great and made me appreciate my Galaxy phone, even more, the functionality was limited. When the Frontier came out, I began researching it, to see if I would once again invest in a wearable device. I am so glad I did.
This is absolutely the greatest smart watch on the market.I have a lot of friends who are loyal to other brands, and without fail every single one of them is jealous of my watch.
Samsung has been able to take wearable technology and make it integrated technology. I can't imagine going a day or even a few hours without my watch.
I love Samsung Pay, and the watch can handle electronic payments quickly and flawlessly. Making calls on the phone is also easy (and much safer when driving), and they are crystal clear.
The activity trackers are incredibly accurate. I love the little nudge when I have been inactive for an hour at work. I also kept a sleep log and matched it against my watch, and it was precise without ever having to manually start tracking (which I always forgot to do with other wearable devices).
If you are even slightly on the fence about getting a smart watch, get this watch, you will not be disappointed. Thank you, Samsung! [This review was collected as part of a promotion.]
BestBuy Reviews
This product has an average rating of 4.7 on BestBuy based on 1230 reviews. Go to bestbuy.com now to view all reviews.