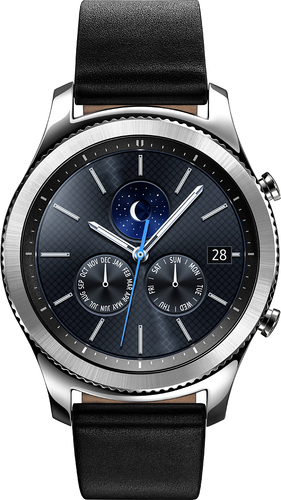 Samsung – Gear S3 Classic Smartwatch 46mm
Connect your Samsung Gear S3 with both Android and iOS smartphones.¹ Pair your smartwatch via Bluetooth using the Samsung Gear companion app to see where the freedom of Samsung Gear S3 can take you. With the Gear S3, you can pay right from your wrist, track your location, and withstand any weather.
Android and iOS compatible
Samsung Gear S3 is compatible with both Android and iOS smartphones.¹
Never miss a moment
Text, call, and get notifications directly from your Bluetooth connected watch.¹
Pay with your watch
Make payments with Samsung Pay almost anywhere you can swipe or tap a credit card.²
Get out there
The built-in GPS keeps track of your activity and makes it easy to share your location.
Designed for the elements
With military-grade performance, the Gear S3 resists water, dust, extreme temperatures, and the occasional drop.³
Apps at every turn
Rotate the distinctive steel bezel to easily access apps and notifications.
Go for days
Go nonstop for days on a single charge⁴ and recharge on the wireless charger.
Track your fitness
With the built-in S Health app, track your steps, monitor your heart rate, and more.⁵
Apps at your command
Access the apps you use every day on your Gear S3. Catch a ride, check scores, stream music, and more.
Tailored to you
Make it your own by customizing your watch face and swapping out the standard 22mm band.⁶
¹Compatible with select Bluetooth capable devices using Android OS 4.4 and later with at least 1.5GB RAM as well as iPhone 5 and later with iOS 9.0 and above. Not all features available with iOS paired devices.
Gear S3 supported devices may vary by carrier and device. For a list of compatible smartphones and features, please visit samsung.com/gears3. For best results, connect with compatible Samsung Galaxy devices.
²For best results, Samsung Pay on Gear S3 requires network connection through LTE, Wi-Fi or via Bluetooth pairing with compatible smartphone.
After Initial setup, Samsung Pay on Gear S3 can make at least five transactions without reconnecting to a network. Samsung Pay on the Gear S3 is only compatible with select cards, carriers and Samsung devices and non-Samsung Android phones.
See the Samsung Pay Support page at http://www.samsung.com/us/support/owners/app/samsung-pay-gear for compatibility information.
³This device passed military specification (MIL-STD-810G) testing against a subset of 10 specific conditions, including drops from 4.9 feet, extreme temperatures, dust, shock/vibration, and low pressure/high altitude.
Water- and dust-resistance based on IP68 rating (water-resistant in up to 5 feet of water for up to 30 minutes). Rinse residue/dry after wet. See user manual for more details.
⁴Average expected performance based on typical use. Results may vary.
⁵This device and related software are not intended for use in the diagnosis of disease or other conditions, or in the cure, mitigation, treatment or prevention of disease.
⁶Band sold separately.
Samsung Gear S3 Classic Video Reviews
The $300 Samsung Gear S3 Smartwatch Review
Samsung Gear S3 Classic Smartwatch
Samsung Gear S3 Classic hands on review
An owners review of the Samsung Gear S3 Classic
Samsung Gear S3 Classic Unboxing and Setup with a LG V20
Walmart Reviews
This product has an average rating of 4.6 based on 139 reviews by Walmart customers. Read some of the latest feedback below or go to Walmart.com to find all reviews.
Amazing Watch!
Review for Samsung Gear S3 Classic by raf876 on 2017-03-21T17:33:10
Rating: 5 (Value: 5, Features: 5, )
I love this watch. This timepiece is very well made and has a very stylish design. Not to mention, I received many compliments from friends, family, and co workers. The integrations are outstanding! The heart rate and health features are extremely helpful, it even reminds you when you haven't gotten up to walk in a certain amount of time. Furthermore, the Spotify, Uber, receive send text messages, and the ability to receive and call through the watch features frees you from your phone. The screen size and resolution is surprisingly well done and very bright.Overall, this is definitely a watch worth purchasing. [This review was collected as part of a promotion.]
Life Changer
Review for Samsung Gear S3 Classic by jbmeerbott on 2017-02-15T08:28:43
Rating: 5 (Value: 5, Features: 5, )
This watch is amazing!!!! The durability of the watch is awesome it holds up to my demanding job while also looking very sophisticated to the point that you get compliments on it where ever you go. I work in a steel factory and have yet to get even a little scratch on it. The voice feature works amazingly even in loud environments even better than it does on my phone itself. The battery life couldn't be better, I've gotten four straight days without needing to charge and that was using it for samsung pay, taking calls on it, texting, weather updates, and just playing with it. The samsung pay on it works amazingly and you just watch the cashier's mouth drop when they say oh we don't accept that and the payment processes and they are left stunned. Overall I think it is a great value for all of the features. [This review was collected as part of a promotion.]
BIG, but Big on Well Worth it
Review for Samsung Gear S3 Classic by koa4evr on 2017-02-14T14:04:31
Rating: 4 (Value: 4, Features: 4, )
First of all I have not worn a watch on my arm for over a decade, so I thought it may be a little strange to have on again. I was right! Very strange. For the first few days I definitely felt the weight of it and thought it was a little annoying, but figured i will eventually get used to it. It only took most of the week to not even realize it was on my wrist (except for the best part of the device, the sounds and vibrations of the notifications and phone calls). I was very skeptical when deciding to try this monster out, and so far I have been very pleased. I didn't think I cared to get my notifications on my wrist when I get them on my phone. Boy was I wrong. It is SO much nicer just to glance down at my wrist than to dig my phone out of my pocket just to check. Welcome to the Future!
The battery on it lasts an amazing amount of time. I can go into the 4th day of use before I have to charge it again, thanks to its huge battery. However I noticed that one of my 3rd party watch face apps would drain the battery twice as fast. So watch (pun intended) what you load on to see if that is affecting the battery life.
Besides the battery the best reason to change from the Gear S2, or any other watch for that matter, is the option for the magnetic blast for Samsung Pay. This allows it to work on so many more credit card terminals than NFC alone. But expect some strange looks from cashiers as you use the watch, whether it works or not. But man is it handy. [This review was collected as part of a promotion.]
Easily Integrates with Everyday Life
Review for Samsung Gear S3 Classic by ThePringlesGuy on 2017-02-22T08:15:09
Rating: 4 (Value: 4, Features: 5, )
I was very excited to begin using the Samsung Gear S3 Classic once it arrived. Setup was very easy and everything necessary was included in the box (sans smartphone, of course). I actually left the US to travel abroad the day after I got my hands on the watch and it has come in great handy here in Europe. I was able to download a converter app that allows me to easily convert foreign currency values to USD, metric measurements to imperial, and other such things. I am definitely glad that I have it. Now let's get into the pros and cons:
Pros:
• Sleek design
• Easy-to-navigate interface
• Great integration with smartphone
• Very precise touch screen (I almost always am able to tap the correct icon if there are a lot in a small space)
• Lots of customization options
• Great battery life (I can go 3-4 days without charging mine)
• Wireless charging stand is included
• Many additional apps can be installed
Cons:
• The watch strap is a little stiff and has some slight creases at the holes I typically secure it on.
• The rotating bevel could "click" into place better (I often find myself having to spin the bevel the opposite way because it spins so easily and I pass the option I was trying to get to)
• There are "home" and "back" buttons but no "select" button so if you want to select an option you have to tap the icon on the screen. So even though the bevel can rotate to indicate a specific icon on the apps screen, you can't select that icon with a button; you have to tap it, which seems a little redundant because you could just tap the icon from the start without rotating the bevel to indicate it.
• The S Health app sends me "keep up the good work" and "that was a nice walk" notifications on the watch during and after walking somewhere as "encouragement" but honestly it's kind of annoying and I've disabled all of the health nudges in the app but it hasn't stopped these notifications. [This review was collected as part of a promotion.]
Exactly What I Was Looking For
Review for Samsung Gear S3 Classic by xTripwire on 2016-12-29T14:43:21
Rating: 5 (Value: 5, Features: 5, )
When I first heard about the Gear S3 I just happened to be in the market for a new wristwatch. It was almost fate that my searches lead me to the Gear S3 announcement video from a few months ago. While watching the announcement conference, I fell in love with everything Samsung set out to do with the S3. The design of the watch sparked my interest the most. For me personally, a watch is first about style, then about telling the time. The classic version of the watch is simple, elegant, and fit everything I was looking for in a watch style. The stainless steel, Gorilla Glass, and AMOLED combo gives it a truly premium look and feel. Plus with the ability to easily interchange bands and faces the watch can fit in for almost any occasion. With this being my first smartwatch, I've made good use of the messaging, calling, and notification features the S3 offers. Everything on the watch has ran perfectly smooth and is made easy to navigate with the rotating bezel and reactive touch screen. Topping all this off is Samsung Pay right in the watch and I was sold on this thing from day one. Overall this watch is a tremendous value for what it offers and I am exceptionally satisfied with my purchase of one. I have, and will continue to recommend this to all my friends with Android devices.
BestBuy Reviews
This product has an average rating of 4.7 on BestBuy based on 564 reviews. Go to bestbuy.com now to view all reviews.