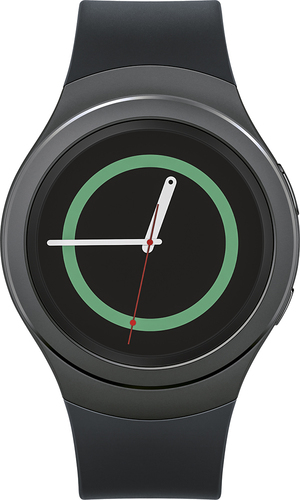 Samsung – Gear S2 Smartwatch 30.5mm – Black
Samsung Gear S2 Smartwatch: Stay connected even when you're away from your phone with this smartwatch, which receives texts, e-mails and notifications and features S Health and Nike+ Running integration to track your health and fitness. The 1.2″ Super AMOLED touch screen makes it easy to navigate apps and Web pages.
Connect to your Android smartphone
Sync your apps and contacts and receive notifications when you get a text, e-mail or phone call.
1.2″ Super AMOLED touch screen
View texts and e-mails, check your calendar and browse the Web while you're on the go.
Built-in Wi-Fi, Bluetooth 4.1 and NFC connectivity
Access Web pages and apps at home or on the go. Connect to a variety of compatible devices for wireless streaming and charging.
Elastomer band fits your active lifestyle
Adjustable band stretches for comfort while you run, bike or lift weights in the gym.
S Health and Nike+ Running integration
Stay healthy and track your fitness progress. A heart rate monitor helps get you moving.
S-Voice enables simple voice command
Search the Web and make phone calls right from your wrist.
IP68-rated dust- and water-resistant design
Gorilla3 display and elastomer band offer durability for outdoor use.
Wireless charging
Power your device quickly using the included wireless charging dock.
Samsung Gear S2 Video Reviews
Samsung Gear S2 Review
Samsung Gear S2 review
Samsung Gear S2 "Real Review"
Samsung Gear S2 Review!
Samsung Gear S2 Smart Watch – REVIEW
Walmart Reviews
This product has an average rating of 4.5 based on 1464 reviews by Walmart customers. Read some of the latest feedback below or go to Walmart.com to find all reviews.
The White Gear S2 is deinifitley a good watch and stylish to use.
Review for Samsung Gear S2 by TZiggy94 on 2016-02-01T16:24:18
Rating: 3 (Value: 4, Features: 4, )
I found the battery life to be pretty good. Lasted me between 2 and a half to 3 days on a single charge. The charging time could use a bit of work though. I love its integration with notification services on my Galaxy S6. Especially with the email app. The rotating bezel made the watch a breeze to use as well.
The display looks high definition(looks about 720p) on a pretty small screen and the colors look pretty diverse. The screen itself feels like the perfect size for my wrist. Although my wrist is pretty small.
The S-Voice feature was surprisingly not too bad on the watch. It took all my messaging and weather requests with no problems.
If there's one thing I would request are more apps and support in the Gear App Store. That and the problem with the watch bands being a bit hard to remove.
Cant leave phone at home or more than 90ft away
Review for Samsung Gear S2 by Lish on 2017-03-30T04:51:15
Rating: 5
Absolutely love the watch i work at a cell phone carrier and i got this watch because we had sold all out only down 2 down falls the one from walmart is no sim number so you cant leave your phone anywhere and just use the watch has to be within 90 ft from phone. Bluetooth only. Secind it comes in a different lanuage so you need the app to change it from tour phone other than that no complaints actually in the process of getting one for my husband becuse it pairs with apple phones as well. Oh and it comes totally dead so you have to charge it 100% beofre you can use it
Excellent Smartwatch
Review for Samsung Gear S2 by TomDs on 2016-03-05T15:17:36
Rating: 5 (Value: 5, Features: 5, )
I am very happy with my new Samsung Gear S2. I love the features and the display is brilliant. The wheel bezel makes navigating the various screens and menus very intuitive. I would have preferred it if Samsung had made a standard watch strap connection on this model like they did on the classic, but that was not a deal-breaker for me. This watch is about the same as a standard watch, and is not too thick. Samsung did a great job in the physical design as well.
This product I highly recommend
Review for Samsung Gear S2 by gears2you on 2016-01-03T17:59:12
Rating: 5 (Value: 5, Features: 5, )
My Gear is very easy to use. I only take it off to charge it. I am able to keep up with my health as well as keeping up with my life,family,home,finances,ect.. while on the move. I can take calls,email,text,listen to music,keep up with my activities, ect.. while being on the go. I am a mother of 5. It doesn't get any easier than this when it comes to being a busy mom. This is recommended highly to anyone,but especially to moms- on – the – go!
The material that the band is made of is far from durable.
Review for Samsung Gear S2 by GreenGiant92 on 2015-12-28T13:45:49
Rating: 2 (Value: 1, Features: 2, )
The band of the watch is interchangeable, but the metal hedges that are attached to the band can not withstand normal activity and will break off after a few of usage making the watch not wearable. The most activity my watch have seen was me putting it on and taking it off, nothing to intense. Now one of my bands are broken, AGAIN, and I can no longer wear it.
BestBuy Reviews
This product has an average rating of 4.4 on BestBuy based on 2449 reviews. Go to bestbuy.com now to view all reviews.