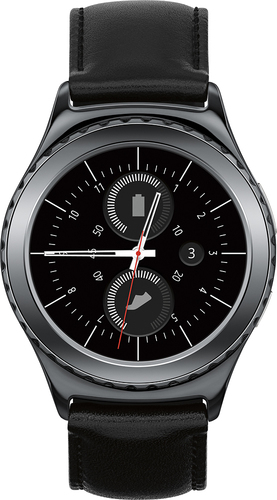 Samsung – Gear S2 Classic Smartwatch 40mm Stainless Steel – Black Leather
Never miss a call or text with this Samsung Gear S2 Classic smartwatch, which features Wi-Fi, Bluetooth and NFC technologies for simple connection to the Web or your compatible Android, iOS device.¹ Receive notifications and check your schedule, or stay active using S Health or Nike+ Running. The leather band offers a stylish look.
Android and iOS compatible
Samsung Gear S2 is compatible with both Android and iOS smartphones.¹
Keep track of fitness goals
Stay active with S Health and Nike+ Running. The heart rate monitor lets you check your progress.
IP68-rated dust- and water-resistant design
Gorilla3 case and sturdy leather band provide tough durability.
20mm leather band
Classic design offers a sleek appearance for the office or daily wear.
S-Voice offers simple integration with your smartphone
Voice commands allow you to search, check your schedule, answer calls and make voice memos.
Rechargeable lithium-ion battery
For extended battery life. Charge easily using the included wireless charging dock.
¹Compatible with select Bluetooth capable devices using Android OS 4.4 and later with at least 1.5GB RAM as well as iPhone 5 and later with iOS 9.0 and above. Not all features available with iOS paired devices.
Gear S2 supported devices may vary by carrier and device. For a list of compatible smartphones and features, please visit samsung.com/gears2. For best results, connect with compatible Samsung Galaxy devices.
Samsung Gear S2 Classic Video Reviews
Samsung Gear S2 Classic Review!
Samsung Gear S2 Classic Review
Gear S2 Classic Review: A New Spin on Smartwatches
Samsung Gear S2 & Gear S2 Classic Hands On!
Samsung Gear S2 Classic Unboxing and Setup!
Walmart Reviews
This product has an average rating of 4.6 based on 2598 reviews by Walmart customers. Read some of the latest feedback below or go to Walmart.com to find all reviews.
The White Gear S2 is deinifitley a good watch and stylish to use.
Review for Samsung Gear S2 Classic by TZiggy94 on 2016-02-01T16:24:18
Rating: 3 (Value: 4, Features: 4, )
I found the battery life to be pretty good. Lasted me between 2 and a half to 3 days on a single charge. The charging time could use a bit of work though. I love its integration with notification services on my Galaxy S6. Especially with the email app. The rotating bezel made the watch a breeze to use as well.
The display looks high definition(looks about 720p) on a pretty small screen and the colors look pretty diverse. The screen itself feels like the perfect size for my wrist. Although my wrist is pretty small.
The S-Voice feature was surprisingly not too bad on the watch. It took all my messaging and weather requests with no problems.
If there's one thing I would request are more apps and support in the Gear App Store. That and the problem with the watch bands being a bit hard to remove.
Great Watch
Review for Samsung Gear S2 Classic by Teddy2416 on 2016-04-20T18:59:37
Rating: 4 (Value: 3, Features: 4, )
I purchased the Gear S2 Classic to upgrade from my Gear 2 Neo which I loved! Out the box the watch works great, I like the WIFI connection when not near phone. First difference I noticed between the two watches is the battery life on the S2 it about a day and half with battery saving option turned on to where the Neo lasted almost a week. The other feature that I loved with the Neo that is not on the S2 is the ability to answer calls using the watch. I do feel the step tracking is better than the that of the NEO, and I do like the automatic heart rate checking! Overall I am happy with my S2 (even though I can't answer my calls using the watch .. lol)
Samsung Gear S2 classic, Black
Review for Samsung Gear S2 Classic by scapaldi on 2016-05-13T05:50:21
Rating: 5 (Value: 5, Features: 5, )
I love this watch. There are a lot of features offered that help me in my everyday tasks. I switched out the leather band for a black stainless steel link band. (Pix attached) This makes the watch more my style now. I also applied skin protection to the face, back and body so my investment is well protected.
Mehh…
Review for Samsung Gear S2 Classic by W3BL4Z3D4NK on 2017-02-21T18:51:52
Rating: 3 (Value: 3, Features: 5, )
Good watch if I didnt receive a damaged one… Has a defect on the screen and a dent in the screen bezel…. Other than that I think the watch works fast and has a great list of features.
Forget your phone
Review for Samsung Gear S2 Classic by orgulas on 2016-03-02T13:08:25
Rating: 5 (Value: 5, Features: 4, )
I am using the my Gear S2 for two weeks. This is my first experience for a wearable technology. First, the design is so suitable for both male and female hand. It is so aesthetic. The battery is so important in smart technologies. My phone has 1 or 2 days battery life for one full charging. On the other hand, my Gear S2 has 2- 4 days battery life which is so great battery life for a tiny device. The watch has a very good performance in apps. I didn't see any performance loss while using. The mobile application in phone of Gear may be some developed. However, it is also so usable. In my title, I have said that forget your phone due to the fact that the notifications appear directly in your hand. You will use your phone as little as possible. Because I did it. You can write the message, watch the video, measure the heart rate, count number of steps and etc. After using the Gear S2, I attach importance to my health. As a result, this product, I mean Gear S2, will be your assistant in your hand. You may be forget your phone in the other room. This will not be a problem for you.
BestBuy Reviews
This product has an average rating of 4.5 on BestBuy based on 1733 reviews. Go to bestbuy.com now to view all reviews.