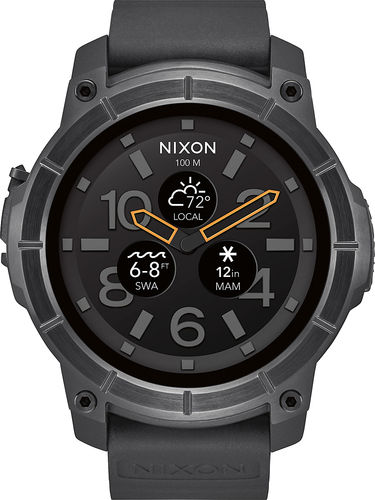 Nixon – The Mission Smartwatch 48mm Polycarbonate – Black
Surf confidently with this Nixon Mission smart watch as it gives you real-time surf conditions. Winter sports are also covered by the Nixon Trace app, which provides snow reports and tracking of your cold-weather workouts. This Nixon Mission smart watch has a strong Gorilla Glass crystal and is designed to withstand the elements and your active workouts.
Compatible with select Apple and Android devices
Including iPhone® 5 or later as well as most devices with Android 4.3 or later operating system.
SMS, calendar, e-mail and social notifications
Keep you updated on day-to-day happenings. Light Touch vibrating motor provides discreet alerts.
Simple navigation and clear visuals
1.39″ AMOLED touch-screen display with 400 x 400 resolution.
Heavy duty crystal
Ultra-tough Corning® Gorilla® Glass is built to resist the elements.
Water-resistant
Your smartwatch is defended against submersion in up to 330 feet of water.
Wireless connection to your device
Bluetooth 4.1 technology provides a reliable wireless connection.
Built-in 400 mAh lithium ion battery
Offers up to 24 hours of use on a full charge for extended operation. Charge easily using the magnetic charging cable.
Vibrate mode
Quietly alerts you to a range of notifications, such as incoming e-mails, calls and text messages, as well as upcoming calendar events.
Nixon The Mission Video Reviews
Nixon: The Mission (QUICK OVERVIEW)
Walmart Reviews
This product has an average rating of 5.0 based on 1 reviews by Walmart customers. Read some of the latest feedback below or go to Walmart.com to find all reviews.
Excellent
Review for Nixon The Mission by Smartwatch on 2017-01-19T17:40:03
Rating: 5
Excellent
BestBuy Reviews
This product has an average rating of 4 on BestBuy based on 94 reviews. Go to bestbuy.com now to view all reviews.