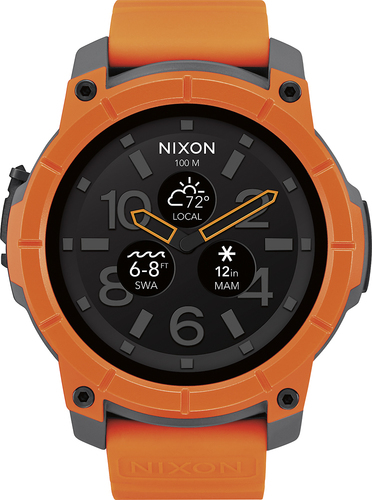 Nixon – The Mission Smartwatch 48mm Polycarbonate – Orange
Combine style, functionality and durability with this Nixon Mission smart watch. This watch is water-resistant up to 100m and is constructed with a durable 48mm polycarbonate case for shock resistance. This Nixon Mission smart watch boasts tough Corning Gorilla Glass and is powered by Android Wear, which includes activity tracking, voice search and gesture control technology.
Compatible with select Apple and Android devices
Including iPhone® 5 or later as well as most devices with Android 4.3 or later operating system.
SMS, calendar, e-mail and social notifications
Keep you updated on day-to-day happenings. Light Touch vibrating motor provides discreet alerts.
Simple navigation and clear visuals
1.39″ AMOLED touch-screen display with 400 x 400 resolution.
Heavy duty crystal
Ultra-tough Corning® Gorilla® Glass is built to resist the elements.
Water-resistant
Your smartwatch is defended against submersion in up to 330 feet of water.
Wireless connection to your device
Bluetooth 4.1 technology provides a reliable wireless connection.
Built-in 400 mAh lithium ion battery
Offers up to 24 hours of use on a full charge for extended operation. Charge easily using the magnetic charging cable.
Vibrate mode
Quietly alerts you to a range of notifications, such as incoming e-mails, calls and text messages, as well as upcoming calendar events.
Nixon The Mission Video Reviews
Nixon: The Mission (QUICK OVERVIEW)
BestBuy Reviews
This product has an average rating of 4 on BestBuy based on 94 reviews. Go to bestbuy.com now to view all reviews.