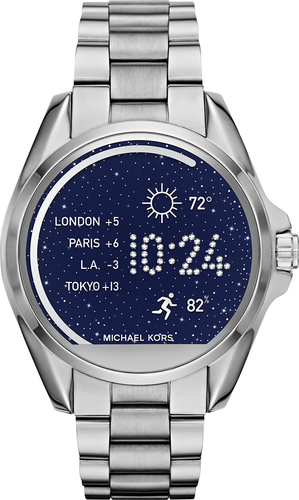 Michael Kors – Access Bradshaw Smartwatch 44.5mm Stainless Steel – Silver
Stay connected with this Michael Kors Access Bradshaw smart watch. Powered by Android Wear, this customizable watch gives you app, email and text notifications right on your wrist, with voice commands providing hands-free web searching. The activity tracker in this Michael Kors Access Bradshaw smart watch lets you monitor your fitness and alerts you when you meet goals.
Compatible with Android phones and iPhone®
Including models with an Android 4.4 (KitKat) or later or iOS 8.2 or later operating system for wide-ranging use.
Calendar, SMS and email notifications
Keep you updated on day-to-day happenings.
Stainless steel case
Along with a stainless steel watch band ensures durability and an elegant look.
IP67-rated dustproof and waterproof design
Defends your smartwatch against submersion in up to 3.3′ of water.
Wireless connection to your device
Bluetooth 4.1 technology provides a reliable wireless connection.
Built-in pedometer
Keeps track of walking and running distances to help you stay in shape.
Built-in 360 mAh battery
Offers up to 2 days of use on a full charge for extended operation.
Apple, the Apple logo and iTunes are trademarks of Apple Computer, Inc., registered in the U.S. and other countries. iPod is a trademark of Apple Computer, Inc.
BestBuy Reviews
This product has an average rating of 4.2 on BestBuy based on 48 reviews. Go to bestbuy.com now to view all reviews.