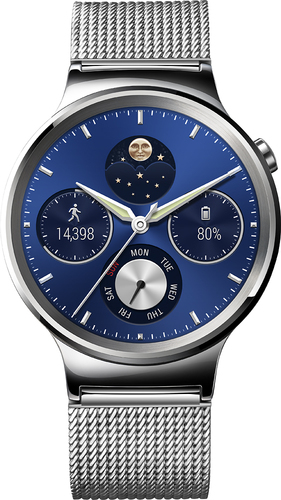 Huawei – Smartwatch 42mm Stainless Steel – Silver Stainless Steel with Stainless Steel Mesh
Huawei Smartwatch: Receive alerts for your calls, texts and apps with this convenient smartwatch, which wirelessly links with your compatible Apple iOS or Android device via Bluetooth. You can monitor your fitness stats, including your heart rate and activity levels. Plus, control functions simply by saying "OK Google" and speaking commands.
Compatible with select Apple iOS and Android devices
Including most models with an iOS 8.2 or later or Android 4.3 or later operating system for wide-ranging use.
Receive call, text and app alerts
Enjoy helpful notifications with more than 4,000 Android Wear apps available for download.
Monitor your fitness
The smartwatch tracks your running, walking and other activities and provides info on activity, calories burned, distance traveled, heart rate, steps taken and elevation to help you meet your goals.
Control functions simply by speaking
Say "OK Google" to access multiple features using your voice.
1.4″ round AMOLED display
Provides a clear view of information.
Durable design
Scratch-resistant sapphire crystal, a cold-forged stainless steel case and a stainless steel mesh band offer rugged construction with a stylish touch. Plus, you can swap out the bands to customize the look.
Water-resistant
To safeguard against moisture damage.
Wirelessly connect to your device
Bluetooth 4.1 interface simplifies device pairing. Plus, you can store your favorite songs on the smartwatch and pair with a Bluetooth headset.
300 mAh battery
Promotes lasting use.
Apple, the Apple logo and iTunes are trademarks of Apple Computer, Inc., registered in the U.S. and other countries. iPod is a trademark of Apple Computer, Inc.
Huawei Smartwatch Video Reviews
Huawei Smartwatch – REVIEW (Best Smartwatch for now?)
Huawei Watch Review: Sharp Style at a Princely Price
Huawei Watch 2 Unboxing and Hands-on Review: Android Wear 2.0 FTW
BestBuy Reviews
This product has an average rating of 4.4 on BestBuy based on 170 reviews. Go to bestbuy.com now to view all reviews.