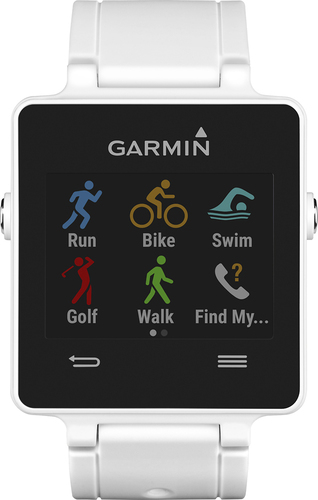 Garmin – vívoactive Smartwatch 28.6mm Plastic – White Silicone (Unlocked)
Garmin vívoactive Smartwatch: Stay motivated with real-time workout stats while you run, swim, bike or golf. The built-in GPS helps you navigate, while the move bar lets you know when you've been inactive for too long.
Compatible with select Bluetooth-enabled iOS and Android devices
Get alerts for incoming calls, e-mails and social media notifications without having to dig in your pocket or purse.
Built-in GPS enables simple navigation
Helps track your running, biking and swimming pace, distance and time.
8 mm ultrathin color touch-screen display
The high-resolution, sunlight-readable touch screen provides a clear view of the current time and notifications.
Track and manage your fitness
Get real-time workout stats including steps taken and distance traveled. Built-in sports apps track your stats even when you're away from your phone.
Get reminders to stay active throughout your day
The move bar appears after 1 hour of inactivity to let you know when you've been sitting too long.
Classic and customizable style
Keep your look simple with the original black band, or personalize it by choosing different colors or a leather option (additional bands not included).
Durable, water-resistant design
5 ATM water rating withstands pressures equivalent to a depth of 50 meters, allowing you to swim, sweat and shower with it on.
Rechargeable battery
Lithium-ion polymer battery can be charged with the included USB cable.
4MB internal memory
Provides self-contained storage space for your apps.
Garmin vívoactive Video Reviews
Garmin vívoactive REVIEW
Garmin vívoactive HR REVIEW // Best GPS Watch 2017?
Garmin fenix 3 vs. vívoactive REVIEW
Garmin vívoactive vs. Fitbit Surge REVIEW
Walmart Reviews
This product has an average rating of 5.0 based on 3 reviews by Walmart customers. Read some of the latest feedback below or go to Walmart.com to find all reviews.
Garmin Vivoactive Smartwatch
Review for Garmin vívoactive by jerryaa51 on 2017-03-09T09:09:00
Rating: 4
It was easy-to-use and lives up to everything it's supposed to.
Great Buy
Review for Garmin vívoactive by BobL on 2017-02-20T01:14:29
Rating: 5
I bought a cheaper smart watch to see if I would like it. I did so I popped for the Garmin Vivoactive , and am more than happy with it so far. The battery life is great and it charges very fast. Nifty charger with magnet to hold watch when charging.
All together, I am very satisfied. I do recommend this watch.
Good for its purpose
Review for Garmin vívoactive by Heather on 2017-03-19T11:24:24
Rating: 4
I had the Garmin vivoactive HR first, and I really like all the functionality, but I have really small wrists and the HR is just too big. It had too high of a profile. That's why I switched to this one, since it is so much thinner and more comfortable. But with the comfort comes a loss of function. There are far less activities available on this watch, even through the Connect IQ store. And there are a few less basic functions, such as a timer, on this one. Also, this one does not count stairs. However, I found that the HR stair count was usually pretty far off, so not a huge loss there. In all, this is a great watch for what it is supposed to do. It works for someone looking for an activity tracker that has GPS capabilities but isn't really training for anything. If you are training, get a different Garmin watch that's more geared toward that.
Garmin Vivoactive
Review for Garmin vívoactive by Garmin on 2017-03-21T09:02:09
Rating: 5
Awesome watch! Not too heavy. I can use it at work to count respirations or feral heart tones because the screen stays on. I don't have to worry about turning my wrist a certain way to activate the screen. Perfect for getting text messages while at work as well. And of course…it is great for running…that goes without saying!
Very versatile
Review for Garmin vívoactive by AmberC on 2017-03-14T06:53:04
Rating: 4
I love doing a wide range of sports and physical activities, so I love having a watch that can track all my different types from running, to basketball, and even swimming! The waterproof and swimming feature was a selling point for me because I am training to be a lifeguard and lap swimming is very important to me! Overall I love the watch and look forward to discovering more ways to make use of it!
BestBuy Reviews
This product has an average rating of 4.4 on BestBuy based on 396 reviews. Go to bestbuy.com now to view all reviews.