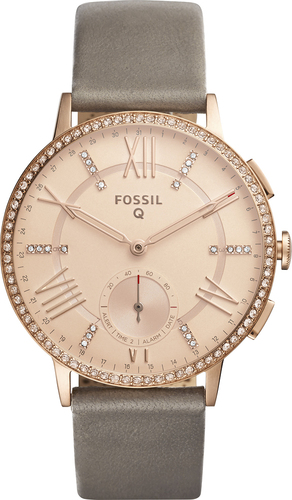 Fossil – Q Gazer Hybrid Smartwatch 41mm Stainless Steel – Pink
Check email and text notifications on this Bluetooth-enabled Fossil smart watch. Its activity and sleep trackers let you achieve wellness goals, and the built-in alarm helps you keep your appointments. This Fossil smart watch links to your music for mobile entertainment and reminds you to take a selfie when you are working out.
Compatible with Android phones and iPhone®
Including models with an Android 4.4 (KitKat) or later or iOS 8.2 or later operating system for wide-ranging use.
Stainless steel case
Along with a 20mm leather watch band ensures durability and an elegant look.
Waterproof design
Defends your smartwatch against submersion in up to 164′ of water.
Wireless connection to your device
Bluetooth 4.1 technology provides a reliable wireless connection.
Apple, the Apple logo and iTunes are trademarks of Apple Computer, Inc., registered in the U.S. and other countries. iPod is a trademark of Apple Computer, Inc.
Fossil Q Gazer Video Reviews
Fossil Q Gazer hybrid smartwatch review
BestBuy Reviews
This product has an average rating of 4.5 on BestBuy based on 2 reviews. Go to bestbuy.com now to view all reviews.