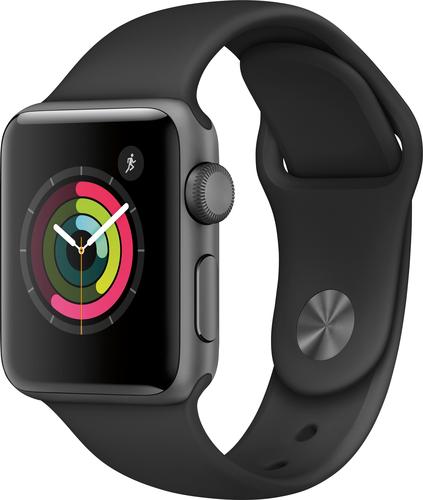 Apple – Apple Watch Series 2 42mm Space Gray Aluminum Case Black Sport Band – Space Gray Aluminum
Apple Watch Series 2 is a superior sports watch that measures your workouts with detailed customizable metrics. An advanced activity tracker that shows you how often you move, exercise, and stand, and lets you share your progress. A powerful health tool that helps you be more conscious of your overall well-being, starting with your heart rate. And an all-day assistant that provides instant access to the people, apps, and information you care about most. There are cases made from aluminum and stainless steel and a full range of interchangeable bands in a variety of styles, colors, and materials. All models run watchOS 3. Requires an iPhone 5 or later.
Aluminum case
Dual-core processor
Built-in GPS
Water resistant 50 meters¹
Wi-Fi (802.11 b/g/n 2.4Ghz)
Bluetooth 4.0
Heart rate sensor
Accelerometer
Gyroscope
Ambient light sensor
Second-generation OLED Retina display with Force Touch (2x brighter)²
Ion-X glass (aluminum cases)
Built-in rechargeable lithium-ion battery
Up to 18 hours of battery life³
Magnetic charging cable
Apple Watch requires an iPhone 5 or later. Classic Buckle, Leather Loop, Modern Buckle, Milanese Loop, and Link Bracelet bands are not water resistant.
¹Apple Watch Series 2 has a water resistance rating of 50 meters under ISO standard 22810:2010. This means that it may be used for shallow-water activities like swimming in a pool or ocean.
However, Apple Watch Series 2 should not be used for scuba diving, waterskiing, or other activities involving high-velocity water or submersion below shallow depth.
²Compared with the previous generation.
*All models come in distinct case and band combinations. Sport Band, Woven Nylon, stainless steel, and leather bands are all compatible with all Apple Watch models.
³Testing conducted by Apple in August 2016 using preproduction Apple Watch Series 1, Apple Watch Series 2, and Apple Watch Edition, each paired with an iPhone; all devices tested with prerelease software.
All-day battery life is based on 18 hours with the following use: 90 time checks, 90 notifications, 45 minutes of app use, and a 30-minute workout with music playback from Apple.
Watch via Bluetooth, over the course of 18 hours. Battery life varies by use, configuration, and many other factors; actual results will vary.
TM and © 2016 Apple Inc. All rights reserved.
Apple Watch Series 2 Video Reviews
Apple Watch Series 2 REVIEW!
Apple Watch Series 2 review
Apple Watch Series 2 review: all about fitness
Apple Watch Series 2 Review!
Apple Watch Series 2 review
Walmart Reviews
This product has an average rating of 4.8 based on 5 reviews by Walmart customers. Read some of the latest feedback below or go to Walmart.com to find all reviews.
love this witch
Review for Apple Watch Series 2 by georgie1971 on 2017-04-06T07:21:20
Rating: 5
It is the best watch ?? I had ever owned the battery last 3 to 4 before I have to charge it and I like how it works with my iPhone 7 definitely worth the money
Love the Apple Watch!
Review for Apple Watch Series 2 by GCRLV on 2017-01-19T20:41:16
Rating: 5
Love the watch! Finally something that I can glance at and see whatever notification I got from friends, work and family. Love the fitness tracking too.
Sam's Club price is the best in the market but leaves a lot to be desired in delivery time (1 Stars on delivery time), not just for this purchase but for all the online purchases I made.
Elegant and Stylish Mirror Watch
Review for Apple Watch Series 2 by AppleFan76 on 2016-11-12T10:56:46
Rating: 5
Apple Watch S2 is a very nice Watch Waterproof that can mirror a number of apps from your iPhone. Battery can last you almost the whole day depending how much you use it. You can have access to your email, phone, texts and a number of apps in your wrist. If you like exercising this Watch have the tools to keep your goals on it. I am very happy with the product and would recommend it. Oh and Sams Club have the best price around.
loaded and easy
Review for Apple Watch Series 2 by jj74 on 2017-01-25T07:30:39
Rating: 5
The watch is easy to work with and has all the extras. I have enjoyed it so far.
Scratched after 1 week
Review for Apple Watch Series 2 by Mike on 2016-10-06T04:59:40
Rating: 4
Watch itself was awesome, however the Ion-x glass was scratched within 1 week. Returned it and got the stainless steel version with the sapphire crystal glass.
BestBuy Reviews
This product has an average rating of 4.8 on BestBuy based on 2866 reviews. Go to bestbuy.com now to view all reviews.